Sweet Hair Accessory Ideas for Short Hair
When it comes to short hair, accessories are a girl's best friend. You can easily change up your look by slipping on a headband or sliding on a barrette. But there's a catch--accessories must be event-appropriate. You probably wouldn't wear a fascinator to a lunch with friends, but you would wear it to a formal wedding. Here's our guide to accessories by the ideal occasion.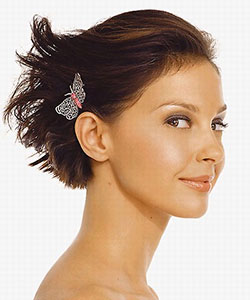 By: Rachel Nall - Photography: Charles Norfleet
Choice of Headbands and Hair Texture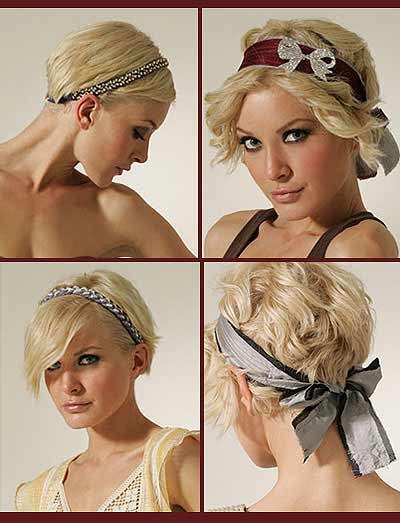 Thin and narrow for straight hair will less likely overwhelm the overall look and harder grip on these headbands can also help to keep bangs away from face when needed. On curly hair, wide band with softer grip and silky fabric is a better choice to reduce static electricity and damage to delicate curls while creating harmony with curls sticking out from sides.
Starting with Headbands
Gossip Girl's Blair Waldorf was rarely seen in public without her trademark headband, and for good reason: This must-have accessory is suited for casual and formal outfits and can be worn no matter how short your hair may be. As long as you have a head, you can wear a headband
Headbands can range from very affordable to high-priced. Gossip Girl wardrobe specialists often dressed Blair in Jennifer Behr's top-of-the-line headbands.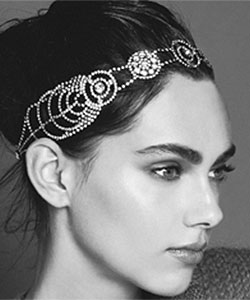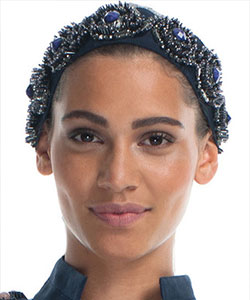 If you have a formal event coming up and don't mind spending on it, this Swarovski Cosmos Bandeaux from jenniferbehr.com headband (top/left) is exquisite. A slightly less pricey look is Tory Burch's Swirl Embellishment headband (right/bottom) in navy trimmed with crystals and purple stones.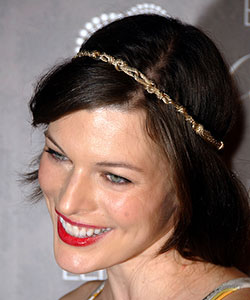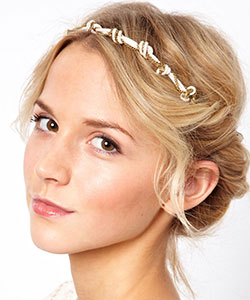 For something a bit more classic and casual, try Made's Cord and Chain Knot Head Band, sold on ASOS. The band look is well-suited to short haircuts because the width won't overpower your hair.
Hair Combs/Pins
Hair combs were popular at the turn of the century when women had tons of hair and used them to secure it back and be decorative at the same time. The good news is, you don't have to have a ton of hair to pull off a hair comb or you can opt for the hairpin, a smaller version of the comb.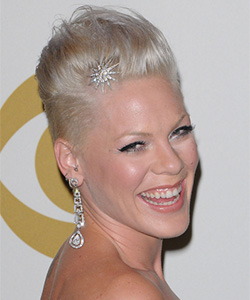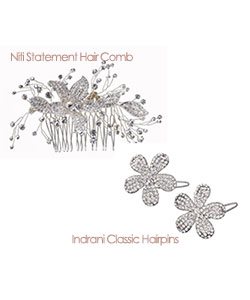 Tejani.com has a wide selection of hair combs and pin. I love the whimsical appearance of the Niti Statement Hair Comb and the Indrani Classic Hairpins would also be perfect for shorter hair.
Hair combs tend to fall on the dressier side of the spectrum and are best worn to weddings and formal events. Hair pins, on the other hand, can be less formal and worn everyday.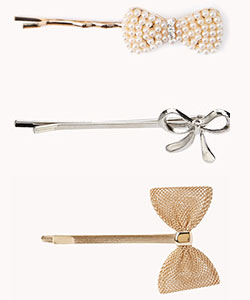 For example, Forever 21's (forever21.com) Bow Hair Pins are ideal for pulling back bangs that are on the growing-out phase thanks to their cute edge.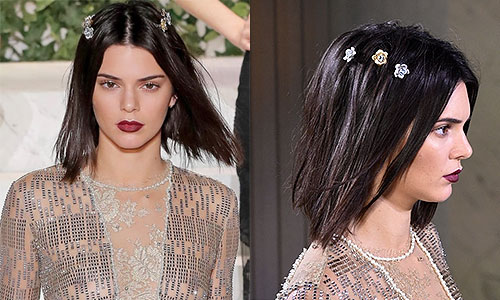 Kendall Jenner debuted her new short hair cut during New York Fashion Week. She showed off her new look while she was modeling in the La Perla Fall/Winter 2017 Runway Show and she looked incredible.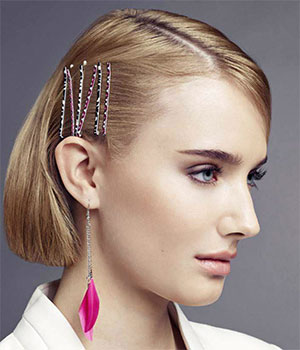 A simple mix and match decoration by Glitter.dk. Colourful and pattern coated bobby-pins will help you to create unlimited patterns and colors while keeping the hair out of your face. Try it on your bob hair cut and you will love the result!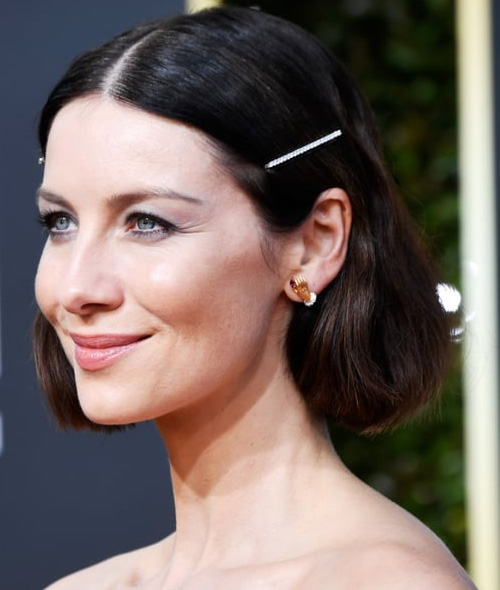 Caitriona Balfe, Golden Globe 2019
Get Fancy with Fascinators
While Kate Middleton may have been wearing fascinators for years, they really hit the big time while the royal wedding hooplah began. Fast forward a few years later, and the fascinator is a fashionable staple at weddings and formal events. Fascinators are less than a hat, but more than a bobby pin. They are headpieces, made with netting, feathers, flowers or anything that looks festive.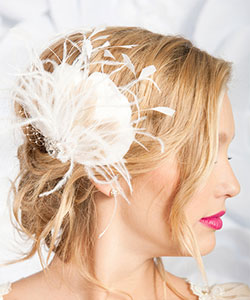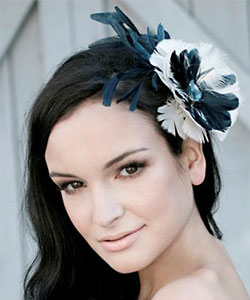 The Luma Peacock Feather Fascinator from designer Tessa Kim (tessakim.com) is beautiful and well-suited for a wedding, prom or formal church service. The site has a number of beautiful, handmade fascinators made with peacock feathers or flowers. The Enchanted Atelier also produces wondrous fascinators, such as the Catherine Feather (right/bottom) one with black and white feathers and an onyx jewel.
Many fascinators are made with alligator clips, which are long, thin clips that easily grab onto hair, even shorter hair. This makes the fascinator suited for all hair length and style. It is just a matter of taste!
Your Companion - Think Out of Box
Earrings are not considered as hair accessories but they surly add interest to shorter hair. If you are looking for the somewhat sophisticated and sexy look then opt for a small pair of studs just like Charlize throne during 85th Annual Academy Awards. However if you want the full glamour look then the answer is simple. Bling Bling the whole way. The more lustrous they are the better.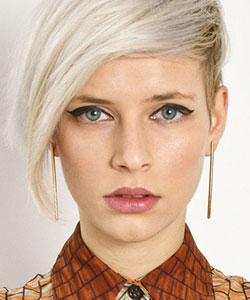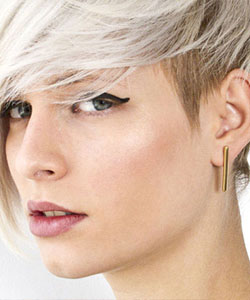 Contemporary golden rod shaped earrings designed by Shy G. from lovenaomi.com on an asymetrical haircut in platinum blonde.