Get the Looks: The Many Styles of Charlize Theron
Sigh. Charlize Theron is proof a woman can shave her head and look more gorgeous than ever. After Charlize shaved her head for her starring role in Mad Max, she showed off some growth -- and flawless skin -- at the 2013 Oscar awards. But Charlize is no stranger to short hairstyles. She has worn her hair in a pixie to a wavy bob. Here's how you can imitate her look.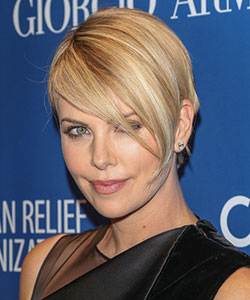 Making the Cut
While Charlize's Oscar style was the result of a grown-out buzz, there's a lot of art to the style. This look is her hair after about three months of growth. Her hairstylist Enzo Angileri says the cut is very short all around her head, but slightly longer on the top to give her added volume. Angileri says it's made more feminine by gentle tapering at the neck and sideburns. "Because it's so easy to wear, Charlize and I have been referring to it as 'freedom,'" Angileri told Harper's Bazaar magazine.
Another star of the cut is Charlize's freshly dyed locks. While you don't have to go blonde for the cut to work, a vibrant color does accentuate the face.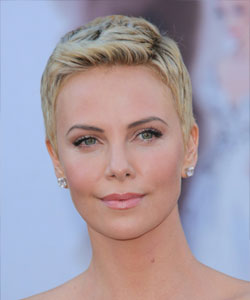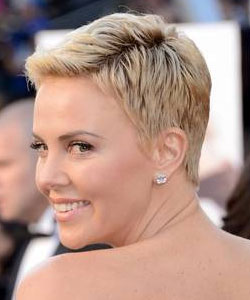 Photography: Andrew Evans
85th Annual Academy Awards 2013
Less is more - Simplicity is the key to shine like a diamond!
"She demonstrates how a short cut can look exceedingly feminine. The secret is to keep the edges soft and well-tailored, and to punctuate the look with strong haircolor."

Damien Carney - Joico's International Artistic Director
6 Months Later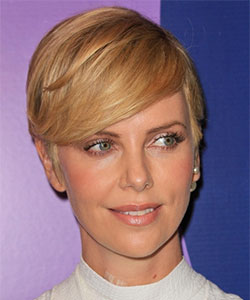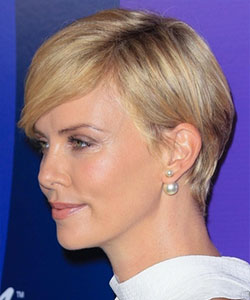 And this is how she grown her hair after 6 months.
9 Months Later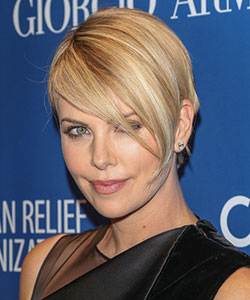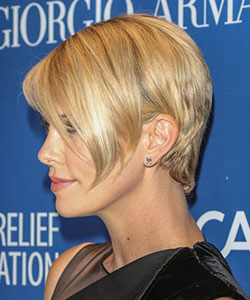 And this is how she grown her pixie 9 months later.
How did she style the pixie cut
Charlize told Ryan Seacrest on the Oscar red carpet that she donated two garbage bags' worth of hair products and brushes post-haircut. If you're looking to downsize your life (and look great doing it), this may be the cut for you.
Angileri detailed the exact steps he took to create Charlize's Oscar look (lucky you!). All products used are Wella styling products, which are sold at professional salons.
After washing Charlize's hair, Angileri applied Natural Volume Styling Mousse to help achieve control and definition. He then popped a diffuser attachment onto his hair dryer and blew her hair 100 percent dry. Using a brush, he shaped and parted Charlize's hair, flicking the brush up at the ends to give her extra volume. He dipped his fingers in Shape Shift Molding Gum and used it on Charlize's ends to create texture. As a final finishing touch, he spritzed on Shimmer Delight Shine Spay for her golden, Oscar-worthy glow.
Makeup Tricks
If you don't have Charlize's peaches-and-cream skin, fake it 'til you make it. You'll need to start with primer that extends the life of your makeup and creates a luminous glow. Try L'Oreal Magic Lumi Primer, applying to your entire face and allowing it to set for a few moments. After applying any foundation or powder as you normally do, grab Urban Decay's famous Naked2 palette, which features some shimmering, golden neutrals and a black eyeshadow perfect for ever-so-slightly smudging eyeliner. Apply a few different shades on the lefthand side, blending the shimmering gold and peachy pinks on your eyelid and crease. Use the white shade that's third from the left just under the browbone. Finally, use a black eyeliner to line the top of your lashes, leaving the undereye without any liner and apply at least two coats of mascara.

Finish off with a sweep of blush and a nude-pink lipstick, such as Nars' Sheer Lipstick in Belle du Jour ) -- a title that definitely sums up Charlize's beautiful Oscar look.