Styling naturally curly thick unruly hair!!
by Jessica
(Newark, NJ, USA)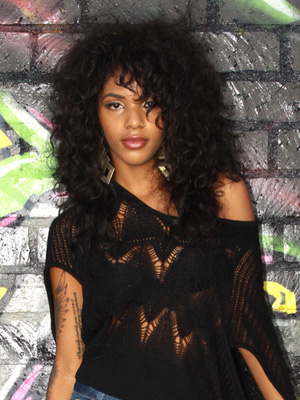 I have always had problems in the past with styling my hair. But this will help others like me achieve a desirable wet look that doesn't frizz up or poof out.

Step one - Shampoo and condition hair (don't shampoo regularly on some days just rinse with water and condition)

Step two - Detangle hair in the shower with a wide tooth comb with condition in hair - after detangling don't rinse immediately. Take this opportunity to maybe shave, brush your teeth, anything you could possibly get done in the shower!

Step three - Rinse hair with cold water! Very important step..... and from this point on don't touch a brush or comb. Style only with your hands.

Step four - Squeeze excess water, do not towel dry. You can put your hair in a towel but do not attempt to towel dry! Don't style hair when it's soaking and don't style when it's only slightly damp! Your hair should feel wet.

Step five - If your hair is extremely curly thick and unruly like mine part your hair either in a half pony tail fashion, or in a pigtail fashion in order to apply product to your hair using only your hands. If you part your hair in various sections and apply product section by section you will achieve better results. Rub two parts gel for every one part leave in conditioner (preferably conditioner should be of a creamy consistency) in the palms of your hand and distribute evenly in hair section by section.

Step six - Run your hands through your hair to evenly distribute product at the end and flip your hair forward with your head upside down and do the same thing - run your fingers through your hair a few times to help separate curls and enhance any layers you might have.

Step seven - Use a little hair spray and blow-dry with diffuser attachment in the same position you were in in the previous step until completely dry. Be sure to flip hair right side up every once in the while so you can get an idea of what your hair looks like so far.

Tip: when blow-drying with diffuser, set to high on medium to low heat hold for about 10 seconds and blast with cool air button for another five seconds and do that repeatedly.

It's long but it works wonders on my hair.
Click here to answer or post comments