Tousled and Choppy Bob Hair Style with Loose Waves
Actress Sienna Miller got back to her roots (literally) with this natural, tousled bob. Miller has always been a chameleon with her hair, and this look, among many others, demonstrates that fact. She's always been known for her bohemian-inspired style, and the loose waves of this bob give her a carefree look. Her chin-length bob has long layers at the top that conceal the fact that her bob is actually an undercut on the back and sides.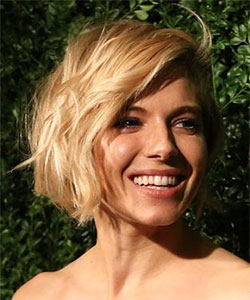 The Haircut
Miller's hairstylist Luke Hersheson originally cut her hair in August. He explained the style to Vogue UK, saying, "There are loads of almost-chewed and torn-looking ends and it is slightly shorter at the back -- it's layered really invisibly by taking weight out with thinning scissors from the underneath of the hair and leaving the top sections heavier and longer so it squashes the hair flatter to the head."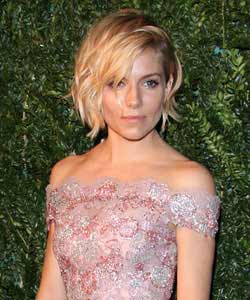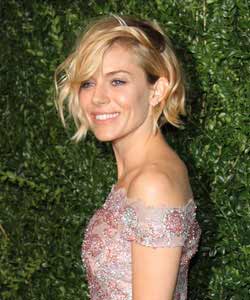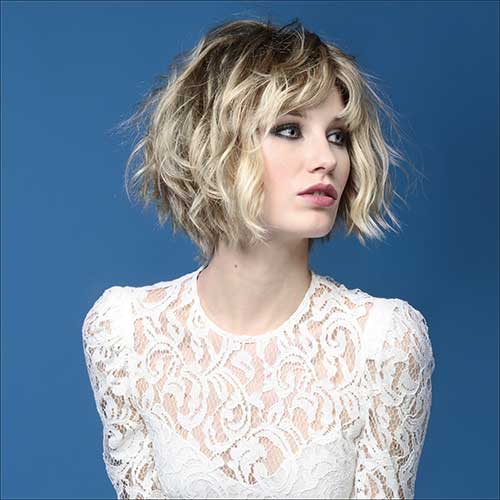 Salon professional style by CompagniaDellaBellezza, Italy
How to Style it Wavy
To get her look, apply a volumizing mousse to wet hair and air-dry or dry using a scrunching motion to give your hair texture when you're in a rush. To give the waves definition and texture, use a hair wand, which looks like a curling iron without the clip. Take one-inch sections of hair and wrap away from the face. To achieve Miller's messy look, run your fingers through your hair to muss any too-perfect waves. You can also use some moulding paste on the ends to create the flipped-out look on the bottom layers.
Let your hair do the talking! - Makeup as NO Makeup
Miller's makeup is a perfect example of natural, glowing beauty, achieved by simplicity. To get her natural look, start with a light-coverage makeup product -- we love Bobbi Brown's BB Cream for this.
Her eyes feature a black gel eyeliner on the upper lid and half of the lower lid (MAC's fluidline liner in Blacktrack is an excellent place to start).
Next, take a highlighting eye pencil on the inner corners of the eye for a luminous look. A pencil in a gold shade such as Tarte's "Lights, Camera, Lashes" inner rim liner is ideal for gently dabbing on the inner corner of the lower eyelid. This effect catches the light and makes the eyes appear wider.
Finally, to have the same neutral peachy lip be sure to use Chanel's new holiday lipstick Rouge Allure in 227 Volage. It should give you Miller's look without going too glossy, which is a win in this case.