Optimize Hair and Scalp Condition with this Wood Bristle Hair Brush
What do you think of a natural hand made wood bristle hair brush that glide softly across your scalp and neck as though hundreds of tiny fingers are massaging every muscle, relaxing nervous system in harmony with your body and removing toxins while restoring body to thinning hair and producing a hairstyle that uniquely yours?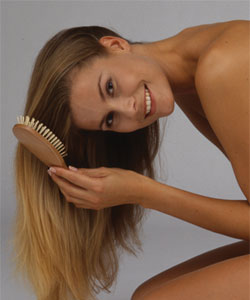 Photo: Valentino Salon
Hair care and hair styling has always been driven by fashion and the processes employed often effect the condition of the hair and fail to deliver the ideal "Look".
The Valentino Mind Brush™ has been developed from the knowledge that condition of hair reflects the whole body's performance.
This wood bristle hair brush is a Holistic approach that helps improve the quality of hair by encouraging the body to work in harmony.
The aim is to achieve a hairstyle around the nature of hair supported by regular salon visits and help to counteract the involuntary stress of modern life that have a harmful effect on hair and scalp.
How it works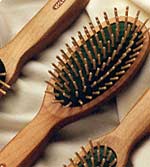 The Valentino Mind Brush™ is hand made in maple. The stain smooth finish is extremely tactile; perfectly balanced, light weight and has been specially designed to feel like an extension of your hand. The smooth rounded ends of the wooden bristle are perfectly suitable for sensitive scalp and deliver a totally unique brushing experience. This unique design approach makes it the best hair brush for thinning hair.



Mind Brush™ Three Styles; Travel Size, Oval Original and Detachable Style
Sprung on a natural anti-static rubber pad (helps to prevent static electricity in hair) , they glide across your scalp and neck as though hundreds of tiny fingers are massaging every muscle. Research has shown that this helps to relax your nervous system, triggering a chain of reactions - relaxing the digestive system, activating the body's lymphatic system, aiding toxin removal and stimulating the sebaceous glands - all essential for well conditioned, healthy hair.
Often oily looking hair is caused by sweat. Sweat carries unwanted substances that could be harmful to both hair and scalp. These can be minimized through better circulation helped by the use of Valentini hair brush.
The Ritual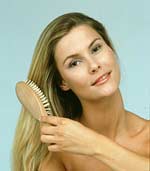 On waking up, and last thing at night, do a simple stretching routine and take a few deep breaths. The idea is to get the main muscle, joints and lymphatic system working. Now place the Mind Brush against the head just above the eyebrow, take it across your scalp and down the back of your neck. Continue at one side of your head, slowly working your way to the other side and back again.

Before washing your hair, use the brush for several minutes consciously making direct contact with yourself, while stroking away the tensions in your scalp, head and neck area. You will be relaxed and your scalp will feel invigorated. Now rinse away dead cells and skin with warm water. Gently wring out the excess water and use the smallest amount of shampoo needed to wash away environmental dirt without unbalancing the hairs natural protection.
Within a month of using this routine, both the texture and condition of your hair will improve and in three months you should have the most optimized hair and scalp condition with best hair your body can produce. For more information on how to purchase, please visit www.valentinohair.com