Iconic 1920s-inspired Hairstyles
A Perfect Bridal Hair Inspiration
The glitz! The glamour! The DiCaprio! If you haven't seen the Baz Luhrman-directed update of The Great Gatsby, you're not only missing a classic storyline — you're also missing some pretty amazing hair and makeup inspirations.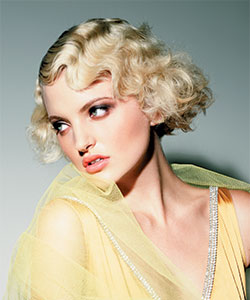 Hair Design By: Stephan Goldsworthy - Author: Rachel Nall
The female star of the show is the ethereal Carey Mulligan, taking over Mia Farrow's role as Daisy Buchanan. Mulligan's hair is definitely a centerpiece to giving off the 1920's vibe the movie takes on. In the 20's, women starting "bobbing" their hair and wearing short skirts, which earned them the nickname "flappers." Daisy's flapper look in the movie is soft blonde hair with bangs and a few face-framing wisps of hair.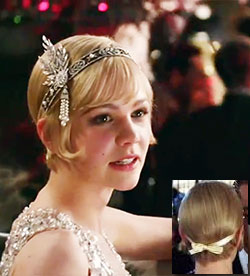 If you want to get down to specifics with your stylist, ask for an A-line bob. Hairstylist Kerry Warn crafted Mulligan's cut and described it as a "semi-shingle, a layered bob with a masculine shape in the back" in Allure magazine. The lower nape area is graduated while the sides do not have graduation. Your stylist can use the tips of his or her shears to chip the layers and bangs, creating movement and softness. The hair color? Ash blonde, of course, and it highlights Mulligan's glowing skin to perfection.
Warn revealed she used the John Frieda Frizz-Ease line to make the look soft and shiny. She applied the Frizz-Ease Serum to wet hair and blew dry on a medium heat setting. A small round brush (think 1/2-inch) helped to keep the hair straight, and a light flick of the wrist curls the hair under. Hair wax can keep stray strands out of place or create the exaggerated forward-facing curls Daisy sports during the scene where she sees Gatsby again over lunch.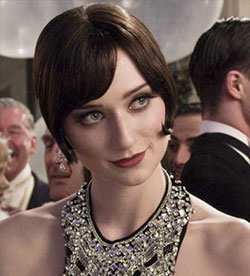 But Mulligan isn't the only female whose hair is to be envied in the movie. Elizabeth Debicki has quite the breakout role as Nick's (played by Tobey Maguire) love interest Jordan.

Her hair is almost the mirror image of Daisy's, but is a deep chestnut brown. Where Lois Chiles' hair was a wavy bob in the Robert Redford Gatsby production, Debicki's Jordan has stick-straight hair with defined wisps framing her face.

If Jordan lived in the 21st century, she'd probably have a mini flat iron in her purse somewhere to keep her hair as shiny as it is in the movie.
Accessorize It
Isla Fisher takes on the role of doomed mistress Myrtle Wilson sporting short, defined curls that were often accessorized with a silk headband. I especially love Myrtle's double-headband look.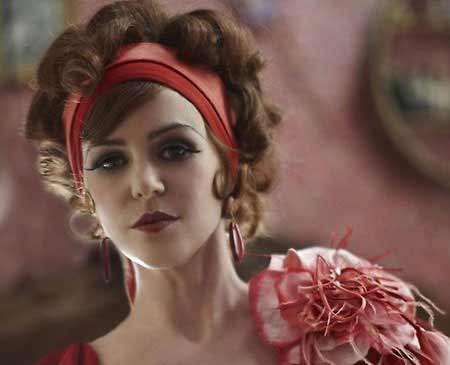 Photo Credit: Perthnow.com.au
Headbands were a common theme in Gatsby, and the costumers dipped into the Tiffany archive (jealous!) to obtain the bejeweled headbands that were especially on display during Gatsby's big party.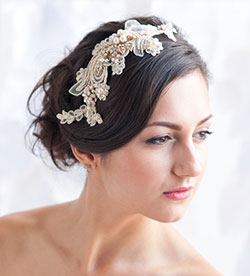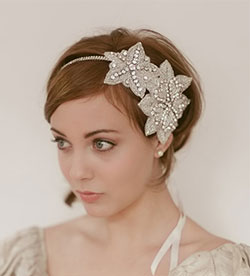 Top/left: Vintage inspired gold lace headpiece by tessakim.com, Bottom/right: silver rhinestone beaded flapper inspired headband by EricaElizabethDesign
If you don't feel like making the investment specifically into a bejeweled headband, visit your necklace collection and artfully drape the necklace around your head. Daisy kept hers over her hair instead of tucking the back of her band underneath. Another option could be to take a silk headband or scarf and decorating it with a jeweled broach.
Wedding Inspiration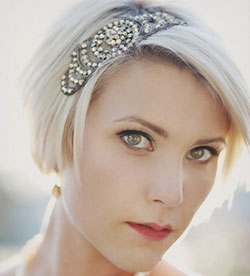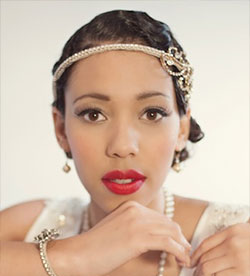 The Great Gatsby remind us of the timeless glamour of 20s and many brides been fascinated by the concept and even planned their entire wedding ceremony, dress and makeup based on 1920s theme - who wouldn't. Here are some real life examples from bridalmusings.com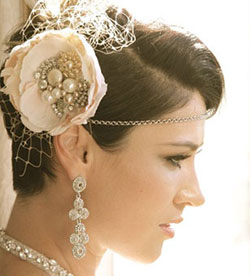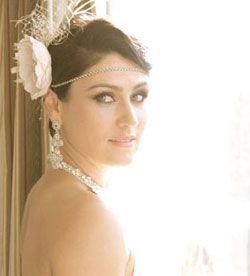 Another great bridal hairstyle inspired by 1920s era. GreenWeddingShoes.com
The Makeup
For the this classic look, you've got to avoid going in the sun because tan definitely was not in. The makeup look for Daisy also is surprisingly subtle, considering many women of the time sported lined eyes and wine-colored lipstick. Similar to these looks below: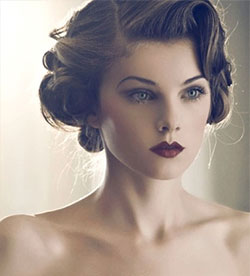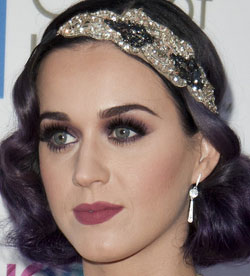 Maurizio Silva, the makeup artist for the film, brushed eyeshadows in black, gray and brown over Mulligan's eyes with a light hand and blended, blended and blended some more. Black eyeliner and thick lashes with some fake lashes applied were a must-have as well. This effect really brought out the eyes even further, helping to bring the hair and makeup together.
The lipstick was Chanel's Rouge Allure in Seduisante if you want to get the exact color. Looks were finished with a translucent powder that took away shine and locked makeup in place, yet helped the stars maintain a glow. Some faves include bareMinerals Mineral Veil or Makeup Forever HD Microfinish Powder -- now you're ready for your close-up!