Styling Products for a New Look
You don't need to load your styling box with tons of style products or other hair care products in order to create great hair styles.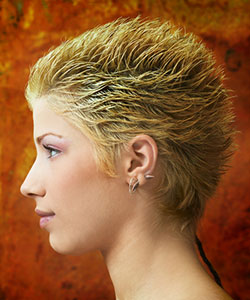 The first step in finding the right hair style product is to understand the anatomy and condition of your hair. You need to know about your hair type, hair texture, scalp condition, and what strength is best for your particular style.

It may take some trial and error, but once you find the right product or combinations of products, your options for creating new styles and effects are almost limitless.

1 - First Stage
Building the Base
Every style starts with a base. It is just like building a house - you need a good solid fundament. For very short hair you might only use prep spray. For mid-length or longer, mousses and lotions are designed to give you fundamental structure. It's designed for styles that involve setting, blow drying, curling and air drying. It gives long-lasting hold, volume and heat protection.
Prep Spray:
What: It's a pre-styling spray that use to prepare hair for what-comes-next! It's a brilliant products that reveals texture. It is and should be weightless.
Who: Any hair and anyone – Best for uncoloured hair.
How: Spray all over damp hair and work through with hands. No need to wait to dry. Continue to next stage
Mousse:
What: Give hair Long lasting body and control
Who: Great for fine hair
How: Use small golf-ball size and scrunch into damp hair
2 - Choose Your Styling Effect
Wet-look effect and Sculpting
Styling gels are the best choice for moulding, sculpting, and creating a shiny, wet-look effect. You can use it on dry or wet hair. Although it may gives thin, fine hair a thicker look, but avoid using too much or it make the hair too heavy and will remove the volume from your style. Mostly used for slicked-back style on short hair.
Gels:
What: Wet shine and control
Who: Girls and boys looking for wet look or sleek-back design
How: Apply as instructed by manufacture, because they come in different consistency and use comb through your hair to spread it evenly and work it with hand afterwards
Instant Volume and Texture
Powders are great for fast, quick and easy fixes. It always comes handy to revive a well defined haircut or to add hassle-free volume and texture to hair without overloading it. You just sprinkle it onto your hand, rub it together and work it through the hair. For tousle and messy effect, you add it to roots and hair ends and for slick effect with volume, you add it only to roots. On longer hair powder are used to support complex updo styles. For short fine hair, you get instant volume and thickness!
3- Finish Your Work
Work on Details
Waxes, paste, creame and moulding compounds are among the best when it comes to finishing touches and allows you to work on small details. It should be used in very small amount and in last stage of styling to give textural effect, shine, definition and protection. Always use those that are water-soluble for easy rinsing.
Waxes:
What: Defining hair texture
Who: Girls and boys with short hair in layered cuts
How: Small amount in palm of hand, warm it up by rubbing it with fingers and use sparingly to shape strands. Too much can make hair flat and greasy!!
Paste and Putty:
What: Add texture
Who: For creating choppy and tousled look
How: Very small amount into palm of hand. Rub it through hair or style the ends only
Watch out : too much can make hair flat and greasy
Serum:
What: Reduce frizz and protect ends
Who: Any hair types that needs some polish
How: Just use tiny amount on ends. Never use on roots and scalp
Holding and Control
Hair spray used to hold a desired shape for a longer period of time. It can give one extra hold or shine to your finishing touch or you can use it to tame those strands before hot tools. It is a great all-around styling tool. Special ingredients create a film that gives the hair firm hold and staying power. For short hair, you can create a sparkly look by applying hair spray to towel-dried hair and blow drying it with your fingers.