I like to cut my hair really short
by Camille
(Paris, France)
Hi! I'm Camille from Paris (France). I've always wear long hair but I'd like to cut it very short like Alyssa Milano for example. What can you suggest me ?

Thanks

Link to Alyssa Milano added by SHS Team for reference


---
short hair
by: Anonymous

I would go short in steps see if you would like short hair. You would look great in short hair but go in steps first.
---
I agree - not short
by: Dave

I agree! I don't think Milano super short cut suit your face. You look very nice with long hair.
---
Shoulder-length
by: NF

You have a beautiful face and perfect for a shoulder-length with layers. I suggest a layer cut starting below ears toward the tip to balance your face.
I also suggest a long fringe from crown to right above your nose. You can have it layered and wear it side sweep. This would be the most flattering haircut for your face.
And lucky you, this years hair trend is all about contrasts, softness and fringes.
Straightening The Back of Short Hair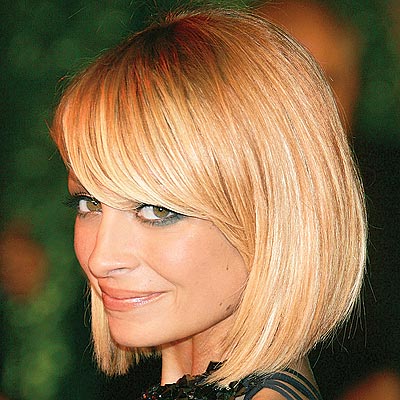 My hair is almost exactly the same length
How do you straighten the back of short hair? (Mine is just about shoulder length)


---
Section the hair
by: SHS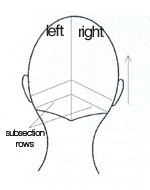 First you brush and comb the back of the head to remove any tangles, and then you start to section the hair. You divide the back of the head from mid in two sections (left and right) and secure with a hair clip. But do not section the top of your head or crown area. Only the back!
Start working from bottom of nape area and take out a subsection of hair (that would be a row within each section) and make sure each row has a clean visible line from scalp. Keep the rest of the hair out of the way with a clip so no individual strands are caught, as this will disturb your work. Straight it with your flat iron and move to next subsection.
As you work yourself toward the top of your head, each subsection should lay straight and smooth on top of each other. As a reminder, you should never section your crown in same way for straightening or else the hair will not fall naturally.
Click here to answer or post comments
Join in and write your own blog page! It's easy to do. How? Simply click here to return to Styling your hair.
How to style while growing out my hair and bangs?
by Cara U.
(Rancho Cucamonga, Ca. united states)
I had really short hair for a long time. Now I'm growing it out and it looks pretty great. But I'm not sure what to do with it. I hide it under a hat all the time cuz I'm not sure how to put it up. I'm letting my hair grow out so I can put my bangs back into the pomp I always had before I cut it. But what else can I do to my hair besides hiding it with a hat? is there something I can do along side the pomp?
Plus size haircut - Easy hairstyle
by Helga
(Ohio)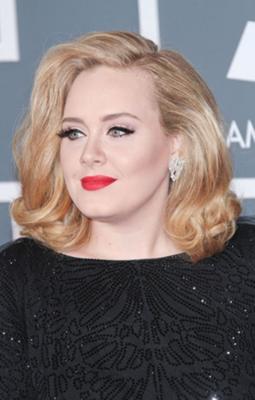 I'm a BBW and have thick hair with a little bit of natural wave in the back. I'm looking for a style that I don't have to do much in the morning, and I don't want anything ultra-short. I never spent a lot of time on my hair, so I have no talent at styling.

I also have a problem that I ride a scooter to work in the summer and have helmet hair. What should I do about that?

I get a demi-permanant color to hide my gray every six months.

Thanks!


Easy Cute Hair

By: -


Recently I got short hair because it is very in right now, especially the bangs. At first I had kind of an edgy look with long bangs that went past my eyes that I would sweep to the side. Then I went in to get it trimmed and my hair stylist gave me a sort of bowl cut - bob shape. But actually it looks really cute, solid bands right above my eyes, short on the back of the neck, long enough to push behind my ears on the side. Plus it is very easy I don't have to style it at all!!! And the only thing about hat or helmet hair is it goes a bit flat, but I just fluff it up with some mousse. Hope that helps a bit!!!

Bug hair and wavy

By: Kristy


I have thick hair that has weird waves everywhere but especially in the back so i layered it! That gave me more wave everywhere then i got tired of that and did an a-line to get rid of some of my weird waves. I love it but now i'm in hot Mexico and chopping it all off later!
Click here to answer or post comments
Join in and write your own blog page! It's easy to do. How? Simply click here to return to Styling your hair.
Short Hair At Top Long At Bottom
by Rachel
(Reading)
Short Layers Long Hair
Im trying to look for a haircut like short layers at the top but long hair. I want short short layers on the top of my head but I dont want it too short. I wanna keep My Length so I dont want it to spike up or anything but I want it noticeable. I want a Side Fringe as well but I want long hair. I most probably wear hair extensions to get my hair longer.

Help Me! I Wanna Also Give A Picture To My Hairdresser So It Easier.


---

Short and Long
By:

Hi, Yes the hair is in layers and shaped with point cutting technique to allow choppy effects with different length variations. The hair ends is mostly cut into different angles rather than straight. And layers are cut shorter on top to reveal the different colors that were placed beneath (If any). Razor is almost always used at the end to thin-out the hair specially toward the ends.
If you want to use hair extensions, then your hair on top must be no shorter than 2" or else it won't be possible.
Awesome Hair Style Idea For Summer
by Rosemary J.
(Elmwood Park )
I know maybe some of you people out there already do this, but this a unique idea for summer because it gets the hair off of your neck. I recommend this style only for ladies out there whose hair length is collarbone or longer.

First of all, spritz your hair hair with some type of spray hair gel (I recommend Herbal Essences Spray Gel) and then brush so your hair looks normal.

Grab your hair into a ponytail and put an elastic on it so it is a ponytail (I suggest a slightly high one).

Then grab a large clip (one that will be able to hold your ponytail in place) and put your ponytail up on your head (literally grab hold of your ponytail and put up your head). There you go!

If you have any frizz or fly-aways from this, spray the hair gel on the problem hair area and rub. This is a sleek easy idea for summer and I hope that you enjoy!!!
Click here to answer or post comments
Join in and write your own blog page! It's easy to do. How? Simply click here to return to Styling your hair.
Long Hair on Bottom and Short on Top
by krissy shatto
(boise, idaho)
This is how i want my hair!
This is how I would like my hair to look but I cant find any pictures to get close to this..can u help??


Emo hair style
by: Anonymous
What you looking for is a variation of style that called emo hairstyle or emo haircut. There are many types and colors, but all look similar to what you looking for. Some of them are very cool and trendy.
here...
by: Anonymous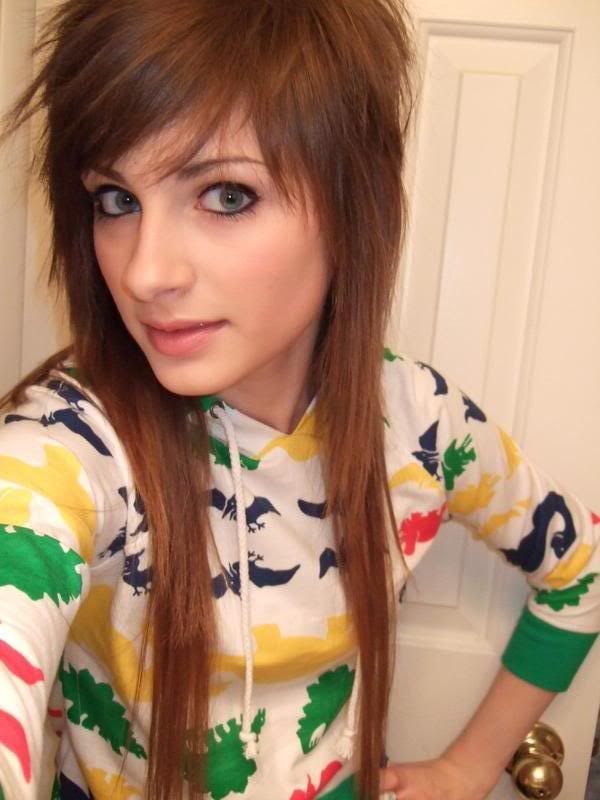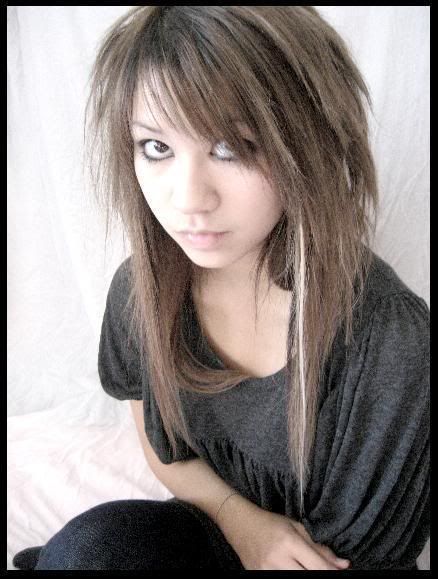 (Btw, this is from a Yahoo! Answer -
I did not find these myself.)
Scene kids!
by: Anonymous

Those girls are scene kids, and scene kidna came after emo so most of them are probably wearing extensions!
Bring a photo to a hairdresser, and ask for choppy up layers, describe that you want like, the top half of your head short short layers, but have the layers getting longer as you go down otherwise it'll look fake, good luck!
My Hair Style and Story
by Ashlee
(Kailua Kona, Hawaii, USA)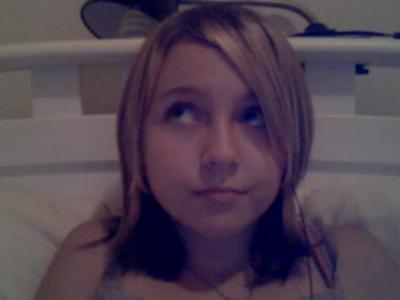 Yes, this is MY hair...
When I was a little girl my mom cut my hair really short. Then when I got older I let it grow out. It turns out that my hair is really ugly when it is about short and just plain, no layers or highlights. So then I layered my hair and now it look fabulous.

If you like my hair style, post a comment and I will tell you more about how to get your hair JUST like that!
My short Hair!!
by Cesley J.
(Ellijay, GA, U.S.A)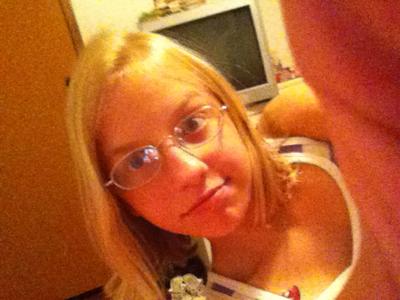 My short blonde hair is so boring.... I have to do the same things with it every day. I hate it!!! So what I choose is to figure out what to do right before I get in the shower and then get in after I'm done.

You can try flat ironing it or even curling it. If your like me then you have naturally STRAIGHT hair!!! Well teens these days like to look beautiful and sexy so down below or somewhere around that spot is a pic. of me before I did anything to it and this is one of the reasons why I really can't stand my hair and that is because it's so ugg!!

3 likes/ ok hair
4 likes/ pretty hair
5 likes/ beautiful hair
10 likes/ SEXY hair!!!!


Thank You Teens ya'll keep me young!!!!!! :)

JOHNSON ALL THE WAY!!
Really Short Hair - How to Look Like Girl?
by Rhiannon Berry
(port talbot)
I want to ask all of you how can i make my self feel like a girl. I got really short hair and shaved on the side. I don't feel like a girl anymore with short hair i try wearing girly clothes but i can't wear them because i don't feel right. Dose anybody know how i can make my hair grow faster?

I've tried styling it loads of different ways but it don't seem to work! Can anybody help :(
And ive tried adding colours to my hair but it won't work either :/


Images posted by site admin.
My new summer short do - Need styling tips
by Heather
(Sydney, NSW, Australia)
I have recently had my almost waist length hair cut short into a between ear and shoulder length bob. Because during summer in Australia thick long hair is just not an option for me as I'm likely to overheat. I also had it thinned out just a tad when I got the chop. The only thing is it has been so long since I've had short hair I have no idea how to style it, is there anyone out there who can give me some tips please?

I have seen one style I would like to try out It's that one where you're hair is slicked down with gel or something and it appears as if you're hair is like a painting of waves. That's the closest way I can come to describing the look. I think I saw it on someone like Charlize Theron or one of those blonde actresses I hope it will work on a brunette.


Finger Waves
By: -
Sounds like you are looking for "finger waves". It was popular in the thirties. They used to have finger waves around the head and at the bottom they had "pin curls" if you google it you can probably find a video or something to show you how to do it. Its very tricky, you may need someone to do it for you. There are also 3 barrel curling irons now for doing something like that but they are better for long hair
Hope I helped :p
Include By SHS
Male Thin Brown Curling/Flipping Hair... HELP!
by Zach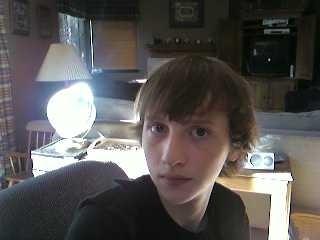 Here is what my hair looks like after I iron it.
I have thin brown hair. I know pretty much nothing about hair and hair products so the only thing that goes in my hair is shampoo. My hair really bothers me because it curls and flips on the sides back and front but not on the top of my head, which looks really bad because I have thin hair.

It doesn't matter if my hair is short or medium length it always does this. So I blow dry and straight iron my hair and it looks fine.

My problem is that by the end of the day it curls and flips again. Also if I sleep in I don't have time to do anything to my hair so I end up wearing a hat all day.

What can I do with my hair?
How do I style Such Short Hair ?!?!
by Ash
(Ventura)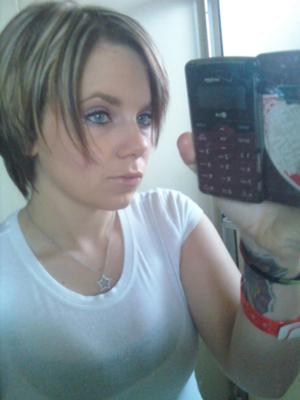 short hair
I have a fresh haircut and I've never had my hair this short and I have no clue as to how to style it differently without it looking the same everyday, what do i do?
Click here to answer or post comments
Join in and write your own blog page! It's easy to do. How? Simply click here to return to Styling your hair.