Very Short Naturally Curly but Thinning Hair
by Susan
(Chicago, IL)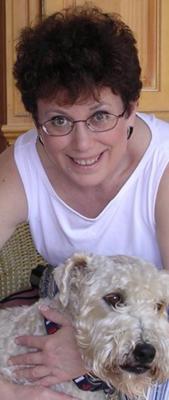 Me with my dog, Amos (he's curly too!)
How to cope with thinning hair with a very short curly "do"? I have short curly hair that is thinning in a few places, namely one place on the crown and at one of the temples particularly.

My hair is neutral light brown (I color it to give it a little more 'punch' and to cover up a very slight amount of grey (mainly on the right temple only - figure that out!) Although I'm not young (I'm 53), I have a very young appearance, good skin and seem to act/look younger than my years.

I like a youthful, but not inappropriate appearance. I also have sever colics in front of my hair, along the forehead mainly...which sometime cause a problem for stylists who do not know what they're doing. I'd like to have an easy to blow-dry (or just natural dry with a pick) style that favors my longer (though I think it tends toward oval) face shape.

I am going on a diet to loose about 15 - 20 lbs, but for now, have to deal with my rather plum 160 lbs and a 5'5" frame (I really should not be over 140 for best health).

Any suggestions. See my photo.