What Color Should I Be?
by Kristina
(Texas)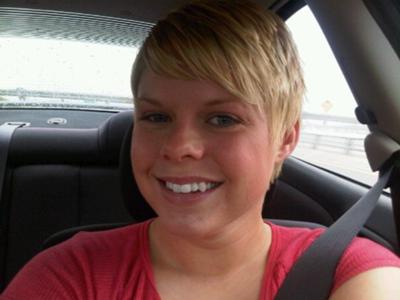 When I first got it cut
So I recently cut my hair into this short little pixie cut, which I LOVE, but now I'm kind of bored with the color and want something different. I am open to red, lighter blonde, or even a light brunette. I've never been red before and kind of want to try it, but am afraid that it'll bring the pink out in my skin too much. Any suggestions??
Undecided of What Color to Dye my Hair
by Rosee
(Rantoul,Il. usa)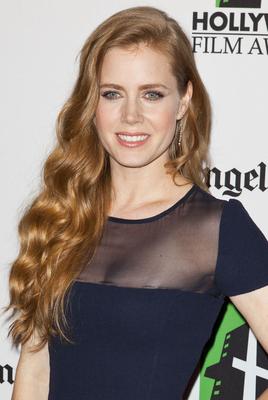 Amy Adams with Red Golden Blond
I have hazel blue/grey eyes my skin is warm tone. I had strawberry blonde hair which fades out after 3 weeks and makes me looked washed out. I have died my hair medium auburn and it has to much red going on.

What I'm looking for is a color which has brown,red and blonde mix. Have any suggestions?
What color should I dye my hair?
by Samantha
(Dorr Michigan USA)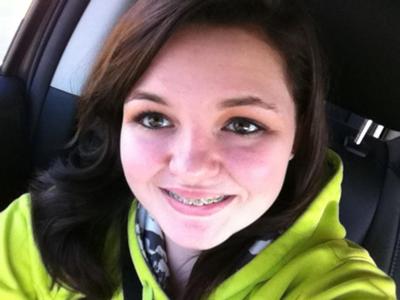 I am open for anything.. I just want some other peoples advice on what color I should dye my hair!!
Need a change in hair colour, suggestions?
I have no idea what to do with my hair, I want a change in hair colour. I like the cut but im getting tired of being plain with brown or brown & blond highlights. Suggestions? I'll consider anything.
Need advice to choose a better hair color
by Anasheh
(Iran/Tehran)
Please help me to choose a better hair color for my hair. I now have a shorter hair below my ears.

Choose a better hair color
By: Flo Briggs

You are a very pretty girl and you can look good with almost any color. I do agree that the color you have now is not your best look. You have many choices, I will give you some of them. You could bleach your whole hair and make it Marilyn Monroe blonde color. You will look stunning and especially if you style it wavy.
Another choice will be to lightening your roots a few shades and make your hair a medium gold blonde and then do panels of red and light blonde only around the face. Or color your whole hair dark brown and do panels of bright red.
You must choose a high-end salon to do this job; otherwise the color change could be a disaster and always remember you pay for what you get. GO DO IT, I wish you the best!
look alike!

Your face reminds me of Leighton Meester! You're stunning :) - Her hair looks great in this colour but she has also lightened it and was able to pull it off.
Good luck choosing!
Click here to answer or post comments
Join in and write your own blog page! It's easy to do. How? Simply click here to return to Hair Color Advice.
Help With Picking A Hair Colour?
by Amber P.
(Winnipeg, MB)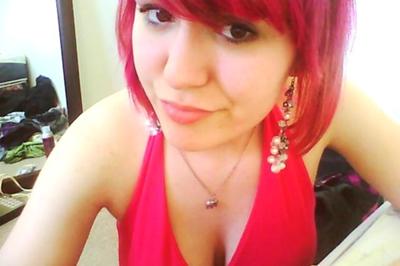 Me
Well, I'm Pretty Pale. But Not Super pale. I Have Brown eyes & My hair is originally brown. My Hair is Pink at the moment But Since Summer Is Here, I want to go more natural colours & I Don't Want to go anything dark cause It Will Be Hot out. I Was thinking of going blonde, But I don't know.

Any Ideas?
Would I Suit Blonde Hair?
by Rachel
(England)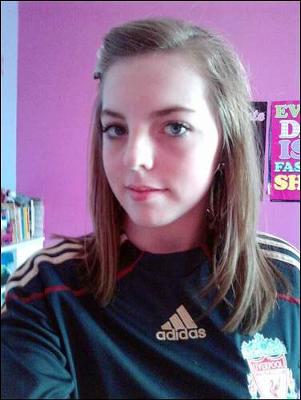 me
I have a dark blonde brownish hair and I have pale skin and blue eyes i also have dark brown eyebrows and shoulder length hair.

Would I suit blonde hair if so what shade and if i don't what color would i suit?
Thanks
What hair colour suits me? - Help!
by Natalie
(England)

Could anybody tell me what hair colour I would suit? My original colour is a rather mousy brown but I want something a bit more interesting...hence the reason I went blonde.

However I'm not sure if I'm now a bit too blonde and should go back a darker brown. Plus...I'm a student and the upkeep of highlights can be quite expensive. Any advice at all would be helpful! Thanks
Want new color and style - what do you suggest?
by Pam Hesse
Dark ash brown hair color
I want blond highlights, but at the salon, the highlights turn out looking grey. You can see my natural color is dark ash brown, almost black. The highlights you see in the photo are natural gray and my hair is very straight.

I need a makeover with hairstyle and color, something more youthful. I'm 58. Any suggestions?


---
Soft look with lowlight highlight
by: N.F.
You will look great with highlight. The best color solution for you is to have a mix of lowlight highlight effect. With 5/1 (light ash brown) as base color and 8/1 (light ash-blonde) as highlight. This will create a natural look with a nice transition from your base color which is dark to light. Any lighter than level 8 could create too much contrast and I really don't recommend it.
Your stylist can place the colors in a way that blends nicely with your natural hair color even when the roots start to show after couple of weeks. You still need to touch-up, but it wouldn't be that obvious with this method.
I also think you should change your stylist or ask your salon for a more experienced colorist/stylist to color your hair, because your highlight shouldn't turn grey after color application.
White (grey) hair is normally a little coarser in compare to naturally pigmented hair and sometimes very resistance to hair coloring and this often create problem. If stylist not take this into consideration while preparing the color application, the resulting color could look faded and you still see the ashen grey color underneath. This could be the reason for what you experienced!
I think you look great with short hair.
Click here to answer or post comments
Join in and write your own blog page! It's easy to do. How? Simply click here to return to Hair Color Advice.
hair colour to make my eyes stand out more
by michelle newell
(lorn nsw australia)
I have layered choppy shoulder length hair that flicks out at the sides. My hair is violet purple atm. I want to know if going bright red or dark brown will highlight my eye colour
What hair color, pls, help! - Pale skin with blue eyes
Dark brown with long curly hair
Hello, greetings from sunny Greece! I am so glad I've found this site and I hope that finally someone will help me decide.

I have very pale skin (can't get a tan), blue eyes and dark brown, long curly hair. Should I stick to my natural hair color and enhance it (a bit darker) or should I maybe try auburn?

Here's my picture (my hair is much longer now).
What colour best fit my skin and hair?
by Z MM
(Tehran)
Short hair with dark colour
What colour best fit to my skin and hair?


---
Warm colours
by: SHS
You have beautiful warm tan with a slight olive background skin tone. For your style with straight dark short hair in level 4/5, it's best to stay with dark colours, but adding richness and depth with lowlight. With lowlights it's important to create a natural look, so ask for a professional multi-tonal colouring with warm colours ranging from light chocolate to dark coffee and espresso positioned in a way that can accent the haircut. For example lighter shades can be placed random and darker shades can overlap with one another and make a soft transition to your own natural colour.
For that, you also need to choose a different hair style! The best length for your face is below ear with some layers.
---
dark
by: Anonymous
stay with dark color
---
Do whatever you want it's your hair
by: Anonymous
I think you should make your haircolor a golden brown or try auburn it will give you the look you desire.
Click here to answer or post comments
Join in and write your own blog page! It's easy to do. How? Simply click here to return to Hair Color Advice.
My New Hair Color
by Saniya Goriwala
(Thailand)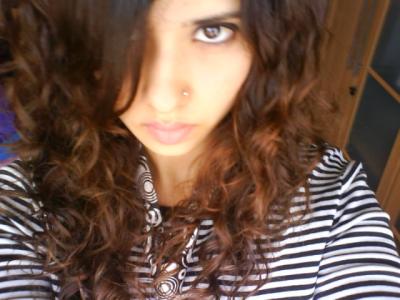 I really want a new hair color... I like my curly hair, but I need a new hair color to freshen up my look. So please do give me some suggestions. I want my face to look brighter.


Go for some soft highlights
by: Anonymous
I recommend you get some rich natural highlights with medium or light ash blond. Just in T-section from top of your hair is enough to fresh up your look. If you don't like it, it will blend naturally with your current hair color as it grows and you don't have to maintain it. Don't go for any wild colors.
Brighten up your eyes
by: Anonymous
Pick a color to brighten up your eyes. You can try highlights of another brown or blonde. You can also try auburn brown or red. that's what i did, cause i too have curly brown hair.