Comparison of Hair Straighteners
Curly hair can be beautiful, fun and charismatic. Natural curly hair can also sometimes be irritating. Women with natural curls often long for straight hair and go to many lengths to get it.
By Candice Pardue
Below is a comparison of some of the well known hair straighteners available on the market today. Whether by temporary or permanent methods, chemical or device, you have the option to straighten those curly locks!

Thermal Reconditioning
Thermal reconditioning is used for long-term straightening in conjunction with a flat iron straightener. To accomplish this, a cornstarch-based chemical is applied to the curly hair and then a heated flat iron is used to straighten the hair.
The results can last up to six months with some hair. This works well with hair that is very difficult to straighten using other methods. Japanese Yuko is a good example of such treatment
Thermal reconditioning offers the benefit of long-term results, where using solely a flat iron would need to be repeated daily or with each wash.
A disadvantage, however, is that the process is expensive and takes quite a while to complete - usually several hours. So you'll need to determine if it's worth the effort and you need to make sure if your hair is suitable for this type of stress!
Keratin Treatments
The magic of 21st century with controversial results and another form of thermal reconditioning. Known by many names such as Brazilian Keratin Treatment, Brazilian Blow Dry and Keratin Smoothing treatments.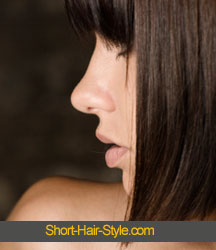 These treatments are aimed to straight around 60% to 90% of natural curls and lasts up to 8 weeks.
We have been following these treatments from begining and you can learn more about it here.
Chemical Hair Straighteners
Chemicals are sometimes used to straighten hair by breaking down the very structure of the hair and removing curl. If you're trying to straighten your hair from a previous curly perm and your hair is naturally straight, the chemicals will permanently remove those curls until new hair grows in its place.
The chemicals most commonly used are sodium hydroxide, also called lye or guanidine hydroxide (no-lye.) Lye mixtures are more powerful than no-lye straighteners.
Lye mixtures do have drawbacks. They can be damaging to the scalp and hair if not applied correctly.
No-lye mixtures can be drying to the scalp and irritating to the eyes or skin although they're not as harsh as the lye chemicals.
Cysteamine Hydrochloride based hair relaxers are gentle and less damaging but if not rinsed correctly can leave hair with unpleasant smell.
Chemical Hair Straightener to Tame Or Relax Your Curly Hair
Ceramic Flat Iron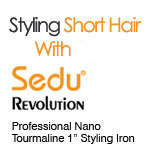 The ceramic flat iron provides the desired look of straight hair without making a permanent or long-term change.
Here are some of the flat irons that are suitable for short hair. Feel free to share your experience with your iron!