Get Notice-Me Cheekbones with Make Up
When you cut your hair short, there are aspects of your face that are accentuated you've never noticed before -- namely your cheekbones. Women with soft, wispy layers that frame the face or gamine hairstyles like Natalie Portman post-V for Vendetta have their cheekbones on display. But if you aren't quite achieving the high-cheekbones look you were going for, there are a few tricks you can use with blush and bronzer to emphasize your cheekbones.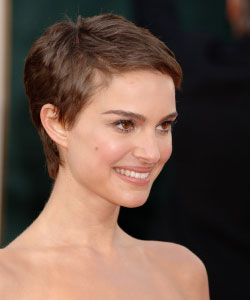 By Rachel Nall
Get Your Shade
You never knew how many shades of pink there are until you head to the blush aisle at a department store. The right color typically depends upon your skin tone. You want the blush color to look like how you would naturally blush or flush after an intense workout. For example:
Olive or green-tinted skin tones? - Typically blush with a peach, warm-brown or copper tone.
Darker skin tones? - Blushing with plum, wine-colored or berry blushes
Fair skin? - Ideal for matching with pale pink or a rosy tint
The color should appear healthy, bright and pleasing to the eye before you ever sweep on your blush.
Choice of Brush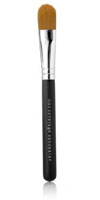 Now for the bad news: the teeny-tiny brushes most manufacturers place in the blush package probably isn't going to cut it. While the tendency is to go with a large, fluffy brush, the best-sized brush is one that's somewhere in the middle.
A rule of thumb is to choose a brush with tightly packed bristles that are about as wide as a typical water bottle cap. This keeps your blush powder from spreading too far as you apply it.
If you want to forego the brush altogether, opt for cream blushes. These are best on short-haired girls that have slightly drier skin as cream blushes don't adhere as well on skin that has some extra moisture.

Ready to Apply?
Armed with the right blush and application tools, it's time to get in front of a mirror. Makeup artists typically try to find the "apples" of your cheeks. This is the area where your cheekbones are most prominent. Remember that darker colors make areas recede while lighter colors move forward. This tip can come in handy when it's time to define the cheekbones.
There are two approaches you can take to blush application, depending upon your face shape. The first is if you have a rounder face. After pinpointing the apples of your cheekbones, imagine you are brushing on a sideways "V" where the point of the V is the upper portion of your cheekbones where your jawbones meet. This will elongate your face, further bringing out the cheekbones your short hairstyle help to define.
If you have a more square or boxy-shaped face, sweep on blush in a teardrop-shaped motion. Imagine you are sweeping blush all around the apples of your cheeks without hitting the center. Use a gentle, sweeping motion to move the blush toward your temples. Otherwise, your blush may appear as if it has stopped short.
Now for the Contour
You can stop at just the blush, but if you want added contour to show off your short hair, you can apply bronzer and highlighter as well. Some blush/bronzer faves are available at your local cosmetics counter, such as Nars' "Orgasm/Laguna" bronzer duo. Suck in your cheeks by puckering your lips to further define where you should apply your bronzer.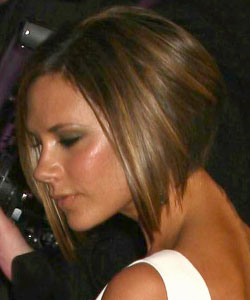 Run a gentle sweep just below where you applied your blush to add definition, remembering to sweep up toward your temple. Victoria Beckham is the perfect example with these bronzed cheekbones.
Highlighter can finish off the look. You can apply a gentle sweep of a very light brush or a shimmery cream atop the apples of your cheekbones.
The light will catch this area and you'll look as if you are lit from within. Highlighter faves include
Benefit's "Moon Beam"
for its foolproof, nail polish-like applicator brush and
Mary Kay's "Mineral Highlighting Powder,"
which is a skin-friendly selection.