Get Textured Crop with Bronzed Glow
In the world of hair, makeup and fashion, Keira Knightley can seemingly do no wrong. Knightley has sported every hairstyle under the sun, but one of my faves is the short, tousled 'do she had after filming her female bounty hunter movie Domino. The look is timeless, not too "done," easy to style and effortlessly gorgeous.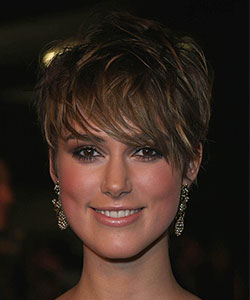 Photographer: Glenn Harris
Keira's hairstylist Ben Skervin, a Vidal Sassoon Pro Series ambassador, who is behind Emma Watson's cut as well, made the short cut for her. In an interview with Styleite.com, Skervin said "For me, I love women that have shorter hair because a lot of the time you find that girls who have long hair really don't do much with it." Skervin gave Keira this cut because she had many styling options.
The look is a sliced, layered cut with lots of edge and texture. The bangs are left long, just long enough to swoop over her eyes, and there is no real definitive part -- the layers are tousled, volumized and defined. The cut is for you if you like looking a little rock and roll, plus that want to achieve that feminine, bedhead look.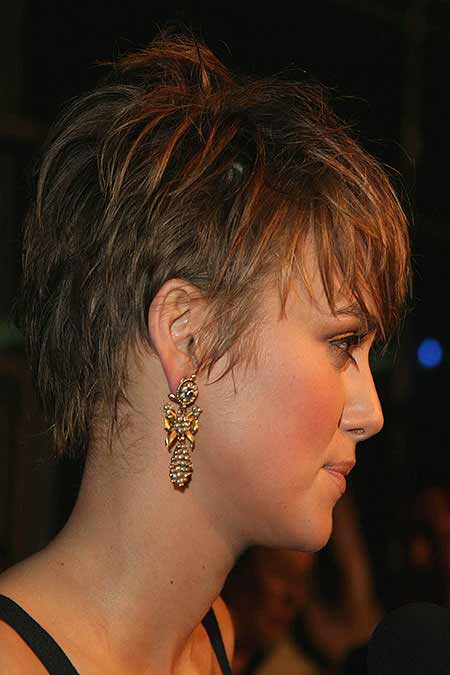 This crop is soft underneath, got internal layers and plenty of movement pumped up with texture.
Skervin is a big advocate of mixing products together to get just the right look. To achieve Keira's signature shine, try mixing a cream gloss plus smoothing spray and finished with a little molding paste for definition. Start by working a dime-sized amount of Vidal Sassoon's Color Gloss Crème into wet hair before blow-drying (or air-drying, if you prefer). Use a hair dryer and your fingers to lift your hair and tousle it as you dry. When you finish, spray on a light shine spray, like Bumble and Bumble's Let It Shine On (And On…) finishing spray.
If you're going out for the night, a molding paste can be the additional finisher that gives Keira the separated and tousled look for her event. To achieve this, put a little KMS California Hair Play Molding Paste on your fingers and go to town, working the paste through your hair by twisting and turning your hair to get your Keira-inspired look.
Textured Crop Matched with Bronzed Glow
Bronzed skin is the star of Keira's look here and her cheekbones are defined with a peachy blush. The eyes are slightly smudged to enhance sex appeal, and the look is finished with a nude, slightly glossy lip. After you put on your basic foundation and concealer, it's time to enhance your look. As a Chanel spokesperson, Keira is rocking the Chanel Les 4 Ombres eyeshadow palette in 38 Premier Regard. Sweep on the gold shadow on your eyelids and the brown glittery shadow at your eye crease. The pink shade can go just under your brown bone. The black shadow can be used as an eyeliner. Using the point of an eyeshadow applicator or a thin eyeshadow brush, sweep and blend the dark shadow on your upper and lower lashlines. Two coats of mascara and voila, you are ready to move on to your cheeks.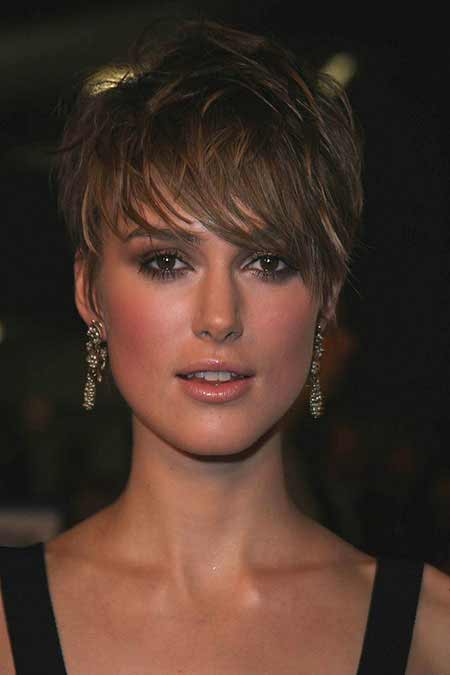 Multi-taskers are a cost-efficient and easy way to achieve her bronze-y, cheeky glow. Nars offers several blush/bronzer duos you can opt for depending upon how dark your skin tone is. Since Keira is the ultimate English rose, she likely would rock the Orgasm/Laguna duo . Start with the bronzer, sweeping it in a C motion from your forehead to cheekbones. Then, dip your blush brush in the blush and sweep from the apple of your cheekbone up to your ear. Because it can be easy to overdo it on blush and bronzer (here some words on how to choose and use bronzer) , try one pass of each and wait a few minutes (maybe apply your lipstick at this time) and then take a look to see if you need an additional pass.
For gloss, keep it simple, natural and shiny. Stila's Shimmer Luxe Gloss in Kitten, a nude-pink gloss looks Keira-perfect.