Change Hair Color Online with Virtual Tools
If you don't have access to a wig and can't imagine how you might look in a different hair colors, this tool is handy. This virtual color selecting tool allows you to view samples of different hair colors with different hair styles.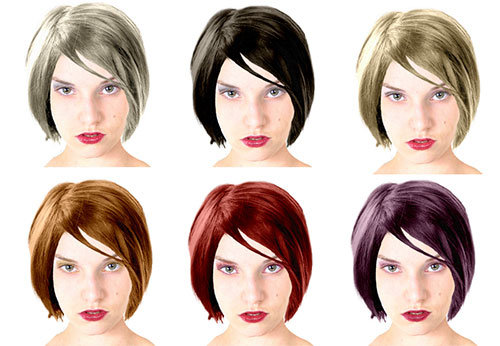 You can select different tonality within each group of colors like natural, blonde, copper, brown gold, red and more. With each click of your mouse, you keep refining your hairstyle color until it's exactly right for your skin tone. It is mostly useful for drastic changes! This little demonstration will help you see how the program works and if it's what you want you can upload your photo and start having some real fun.

Click Here To Register for Full Membership - Full access by FREE membership. Below is a limited demo version. (To view this demo and use the service you need Adobe Flash. You won't be able to use this demo with some smart phones or tablets like iPhone or iPad - Not Yet!)
Some Popular Colors and Combinations
| | | |
| --- | --- | --- |
| Blonde With Dark Brown Highlights | Dark Red | Mocha Brown |
| A creative color which features a two tone effect of brown/red highlights to give the cool blonde tone a hint of warmth and to really show off the face framing layers to perfection. This color will work best on olive, peaches and cream, and fair to light skin tones. | We all love our red tones but can sometimes be a little wary about having them done as red is a very bright and out there color. This hair color needs a lot of care but it really does complement this artistic style completely making the cut, style and color look fantastic. This color will look best on olive and dark complexions. | If you love to keep your colors simple and effective then this is the perfect tone for you. This color will give your hair a gorgeous glow but will also show off the cut in all its glory. This tone will suit pale to light, olive, peaches and cream and dark complexions. It is quite a neutral color. |
| Honey Blonde | Copper Blonde | Dark Violet |
| Warmish blonde can complement your style in all the right ways, but it is quite high maintenance and regrowth touch ups will be needed regularly to keep this color always looking its best. This color will suit fair to light and peaches and cream complexions. | If you love to stand out then this true copper blonde style is the way to go. This style will really show off every inch of this edgy cut. This color will work well on peaches and cream and pale to light complexions. | If you love black tones but are a little scared to go that dark, why not try this deep violet? It's not black but will give you a good indication of what very dark hair will look like on you. It of course looks great with this cut and will work best on olive, pale to light and dark complexions. |